This ChocZero Chocolate Hazelnut Spread is the Best Keto Nutella Dupe!
Calling all chocolate hazelnut lovers! ChocZero's version of keto Nutella is downright delicious!
Oh, how I love Nutella, but oh how I hate all the carbs and sugar that come with each little bite. I mean 21g of sugar per two-tablespoon serving?! 😱 I'd rather not use up my entire day's carb allowance on a snack that'll be gone in less than 5 minutes.
That doesn't mean I won't be getting my Nutella fix though! Thanks to the brilliant food developers at ChocZero, I can now indulge in heavenly chocolate hazelnut spread without annihilating my keto diet.
---
Here's why I can't get enough of this delicious ChocZero Hazelnut Spread:
You can spread it on so many different foods.
ChocZero keto chocolate hazelnut spread isn't just a spread. It's practically a keto staple! You'll understand why when you have a jar or two in your pantry and find yourself reaching for it multiple times throughout the week.
Drizzle it over some keto ice cream, make an epic peanut butter and keto Nutella sandwich (keto bread, of course!), dip strawberries in it, or just eat it by the spoonful when you need something sweet! This chocolate nutty splendor really is love at first taste. 😋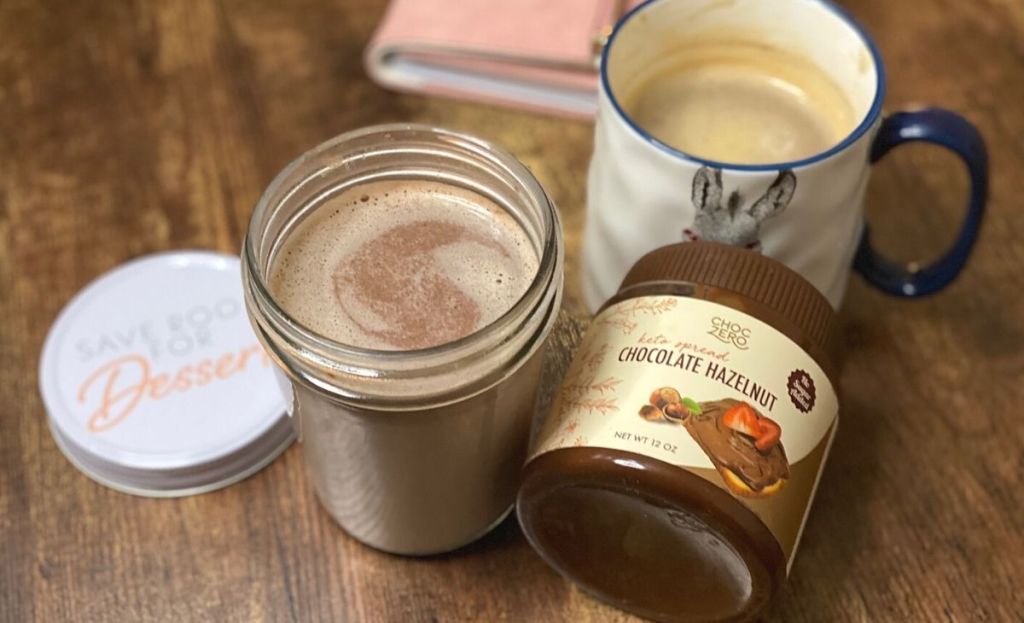 I love my ChocZero chocolate hazelnut spread so much that I used it to make some keto coffee creamer!
Ever since I started eating a keto diet, fun flavored coffee creamers are one of the things I miss most, so I've been getting creative with different ways to make my morning joe a little more exciting.
I've tried every sugar substitute under the sun combined with extracts to try to recreate some of my favorite flavors like almond joy and coconut cream, but they just weren't the same. However, after trying out a new recipe with my ChocZero chocolate hazelnut spread, it's been the next best thing to those sugary creamers and even my husband who doesn't eat keto said it was delicious!
Easy keto chocolate hazelnut creamer recipe:
Combine all ingredients in a saucepan and whisk over low to medium heat until the mixture is smooth. Remove from heat and store in the refrigerator for up to 2 weeks!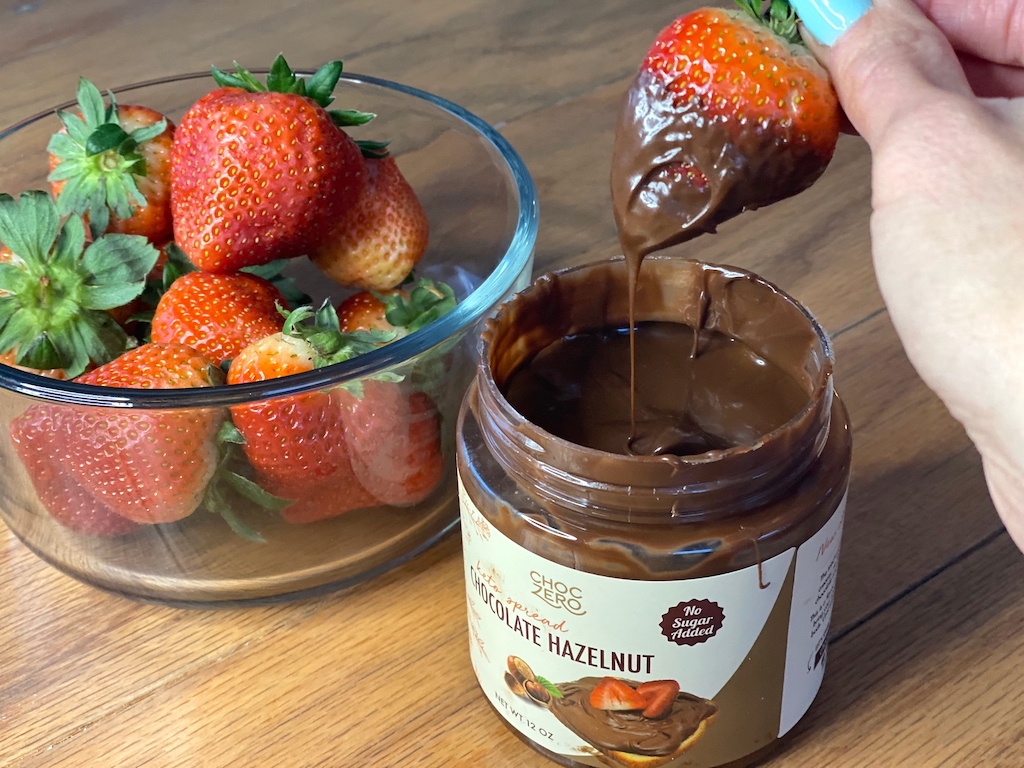 Serving: 2 TBSP | 160 Calories | 10g Fat | 17g Total Carbs | 16g Fiber | 1g Sugar | 0g Sugar Alcohols | 2g Protein | 1g Net Carb
Ingredients: Fructooligosaccharide (prebiotic fiber), vegetable oils and fats (sustainable palm fruit oil, coconut oil, cocoa butter), roasted hazelnut, skim milk powder, cocoa powder, sunflower lecithin, monk fruit extract, natural vanilla flavor.
When it comes to sugar alternatives, monk fruit really is the best in my opinion and it helps bring out that authentic nutty flavor in the ChocZero keto Nutella. So yummy! I also love that there's a generous amount of fat per serving, making it the perfect quick and easy snack when you need some fuel.
---
Here's what a few other ChocZero fans think about this tasty keto Nutella dupe: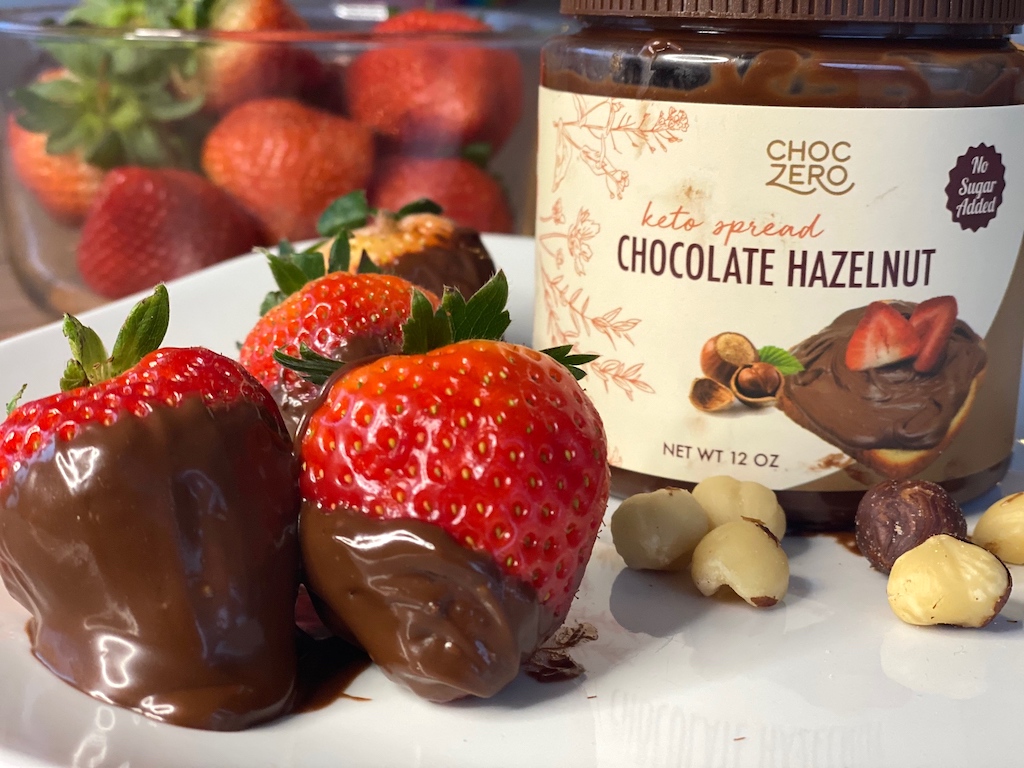 "OMG! This company sells the most delicious products. I am a fan for life! I have tasted and made many low cal chocolates over the years. This is by far the best, rich taste, smooth, deep chocolate spread I have ever had."
---
"Flavor, texture – it's perfect! Just like Nutella!!! I can't tell you what a treat this was to find!!! Great job ChocZero- you knocked this one out of the park!!!"
---
"Super yummy!! Brings me back to my childhood of using Nutella! (But SOOO happy to have a much better version of it now)"
---
"This chocolate hazelnut spread is absolutely DELICIOUS! It's a perfect dupe for Nutella. It's so smooth and creamy. It's great on EVERYTHING! Great find for my sugar-free lifestyle."
---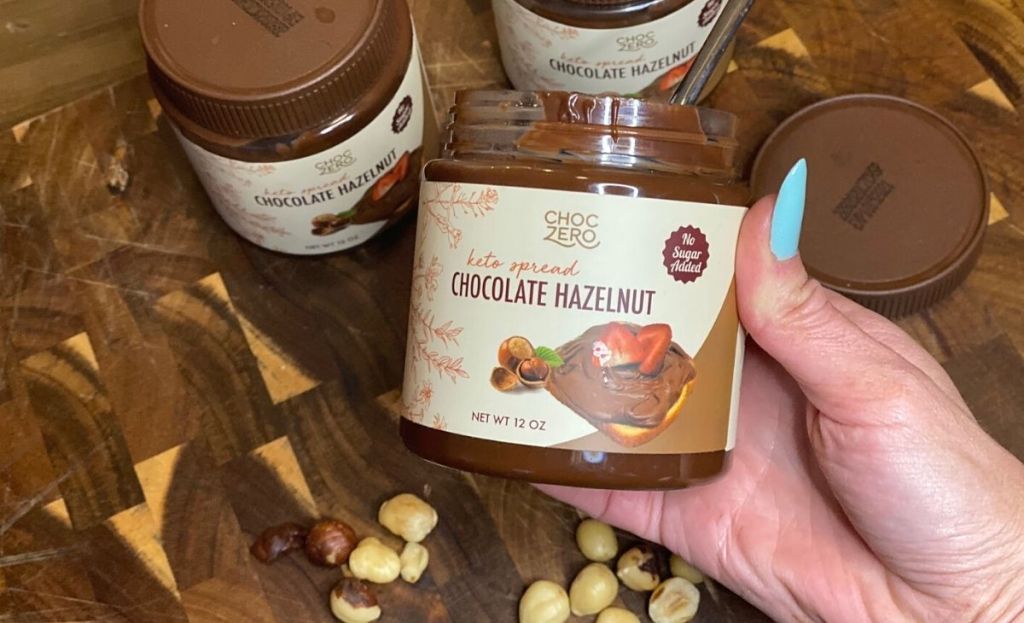 Want to save on ChocZero chocolate hazelnut Spread? Check out this deal! 
Trust me when I say this stuff is too good to pass up! Use our exclusive promo code HIP2KETO at checkout to save 10% on your ChocZero order + free shipping on orders over $34.99.
Or build an epic ChocZero bundle to score free shipping: